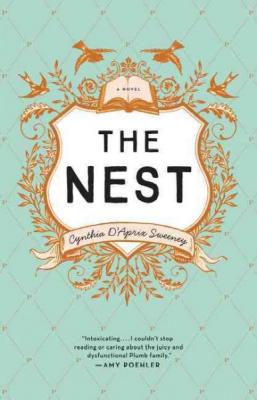 April 2016 Indie Next List
---
"Welcome to the strikingly dysfunctional Plumb family: four siblings connected by little more than 'The Nest,' a joint trust fund that each has earmarked to support their unrealistic lifestyles. When Leo, the older brother and the center of the Plumb family universe, injures himself and a 19-year-old waitress in a scandalous car accident and endangers 'The Nest' just months before the funds are to be made available, the siblings come together for damage control. Sweeney artfully touches on each family member as they scramble to save the precarious lives they have built for themselves, bringing light and humor to her characters' various plights. Funny, thoughtful, and filled with unique and complex characters -- this book is a must-read."
— Jennifer Oleinik (E), University Book Store, Seattle, WA
Description
---
Instant New York Times Bestseller; named a Best Book of 2016 by People, the Washington Post, the San Francisco Chronicle, Refinery29, NPR and LibraryReads.

"Hilarious and big-hearted, The Nest is a stellar debut." — People
"Her writing is like really good dark chocolate: sharper and more bittersweet than the cheap stuff, but also too delicious not to finish in one sitting."— Entertainment Weekly
"Humor and delightful irony abound in this lively first novel."— New York Times Book Review
A warm, funny and acutely perceptive debut novel about four adult siblings and the fate of the shared inheritance that has shaped their choices and their lives.
Every family has its problems. But even among the most troubled, the Plumb family stands out as spectacularly dysfunctional. Years of simmering tensions finally reach a breaking point on an unseasonably cold afternoon in New York City as Melody, Beatrice, and Jack Plumb gather to confront their charismatic and reckless older brother, Leo, freshly released from rehab. Months earlier, an inebriated Leo got behind the wheel of a car with a nineteen-year-old waitress as his passenger. The ensuing accident has endangered the Plumbs' joint trust fund, "The Nest," which they are months away from finally receiving. Meant by their deceased father to be a modest mid-life supplement, the Plumb siblings have watched The Nest's value soar along with the stock market and have been counting on the money to solve a number of self-inflicted problems.
Melody, a wife and mother in an upscale suburb, has an unwieldy mortgage and looming college tuition for her twin teenage daughters. Jack, an antiques dealer, has secretly borrowed against the beach cottage he shares with his husband, Walker, to keep his store open. And Bea, a once-promising short-story writer, just can't seem to finish her overdue novel. Can Leo rescue his siblings and, by extension, the people they love? Or will everyone need to reimagine the futures they've envisioned? Brought together as never before, Leo, Melody, Jack, and Beatrice must grapple with old resentments, present-day truths, and the significant emotional and financial toll of the accident, as well as finally acknowledge the choices they have made in their own lives.
This is a story about the power of family, the possibilities of friendship, the ways we depend upon one another and the ways we let one another down. In this tender, entertaining, and deftly written debut, Cynthia D'Aprix Sweeney brings a remarkable cast of characters to life to illuminate what money does to relationships, what happens to our ambitions over the course of time, and the fraught yet unbreakable ties we share with those we love.
About the Author
---
Cynthia D'Aprix Sweeney is the author of the instant New York Times bestselling novels The Nest and Good Company. The Nest was a Barnes & Noble Discover Great New Writer's pick and named one of the best books of 2016 by People, the Washington Post, NPR, Amazon and others. Sweeney's work has been translated into more than 28 languages. She has been a guest on Today, Late Night with Seth Meyers and NPR's All Things Considered. The Nest has been optioned by AMC Studios and is in development as a limited series. Sweeney holds an MFA from the Bennington Writing Seminars and lives in Los Angeles with her family. 
Praise For…
---
"The Nest ambles along so beautifully, what a pleasure to read! It's a wise, funny, compassionate family drama, full of irresistible surprises, witty conversations, and necessary emotional truths." — Jami Attenberg, author of The Middlesteins
"A masterfully constructed, darkly comic, and immensely captivating tale...not only clever, but emotionally astute. Cynthia D'Aprix Sweeney is a real talent." — Elizabeth Gilbert
"In her intoxicating first novel, Cynthia D'Aprix Sweeney has written an epic family story that unfolds in a deeply personal way. The Nest is a fast-moving train and Sweeney's writing dares us to keep up. I couldn't stop reading or caring about the juicy and dysfunctional Plumb family." — Amy Poehler
"Cynthia D'Aprix Sweeney delivers an acerbic satire of the leisure class while crafting an affecting human story that embroils us utterly in the fates of the Plumbs...This book keeps its blade sharp and its heart open." — Matthew Thomas, author of We Are Not Ourselves
"The Nest is a trenchant, darkly funny, and beautiful novel." — Bret Anthony Johnston
"Humor and delightful irony abound in this lively first novel." — New York Times Book Review
In her debut, Sweeney spins a fast-moving, often-humorous narrative, and her portrait of each sibling is compassionate even as she reveals their foibles with emotional clarity...assured, energetic, and adroitly plotted...an engrossing narrative that endears readers to the Plumb family for their essential humanity." — Publishers Weekly
"[A] generous, absorbing novel...Sweeney's endearing characters are quirky New Yorkers all... [a] lively novel. A fetching debut from an author who knows her city, its people, and their heart." — Kirkus Reviews (starred review)
This dysfunctional family novel, arriving in March, has best-seller potential written all over it. Scenes in The Nest, which follows four adult siblings and the inheritance shared between them, play out cinematically... certainly every bit as entertaining as a movie, too, and impossibly witty to boot. — Elle
"As siblings struggle with money woes, their humble inheritance turns into a full-blown cash cow. There's only one problem: the black sheep of the family." — Cosmopolitan, Cosmo Reads
"Nothing makes your dysfunctional clan look good like another's-meet the Plumb siblings, caught up in a trust fund battle, in Cynthia D'Aprix Sweeney's The Nest." — Marie Claire
Largehearted and witty, The Nest is a tender portrait of a family who must face their past choices and the consequences of their expected inheritance on their relationships and one another." — Buzzfeed
A compulsively readable novel that will keep you thinking about how expectations can shape our lives, and what happens when we can no longer rely on them." — PopSugar
"In this hilarious family saga, a group of adult siblings find their futures uncertain when they realize the shared inheritance they've been counting on might have been drained by their reckless older brother." — Entertainment Weekly, 9 Books You Have to Read in March
"A precise and deftly braided story...a breezier The Emperor's Children, by turns winsome, biting, and addictive." — New York magazine / Vulture
"All it will take is a few pages of this book's strikingly hypnotic prologue, and you'll be sucked in... Better than reality TV, you won't be able to stop reading this until you've sucked out all the juicy drama." — Bustle, 15 of the Best Books of March 2016
"Readers who devour quirky family dramas like Where'd You Go, Bernadette and Be Frank With Me won't want to miss this anticipated debut about a dysfunctional New York City family." — BookPage, 9 Women to Watch in 2016
"Fans of dark comedy are sure to appreciate the twisted humor and compassion found in this novel, which explores the ever-binding relationship between brothers and sisters. The Nest is gripping family drama at its best." — Refinery 29, 5 Brand-New Books to Read in March
"The dynamics and foibles of family take center stage here, interweaving four characters' tumultuous journeys to paint a rich picture of domestic drama." — B&N Reads, The Best New Fiction of the Month
"[A] closely observed, charming novel." — O, the Oprah Magazine
"[S]cenes both witty and tragic... that glow with the confidence of an experienced comic writer... [Sweeney] maintains a refreshing balance of tenderness. Rather than skewering the Plumbs to death, she pokes them, as though probing to find the humanity beneath their cynical crust." — Washington Post
"The Nest is an addictive, poignant read with an enticing premise." — Los Angeles Times
"Hilarious and big-hearted, The Nest is a stellar debut." — People, Book of the Week
"Her writing is like really good dark chocolate: sharper and more bittersweet than the cheap stuff, but also too delicious not to finish in one sitting." — Entertainment Weekly
"It's rare to find a novel as guiltily entertaining as it is profound, but The Nest, Cynthia D'Aprix Sweeney's engrossing debut, is one such book." — Elle.com
"Fans of Salinger's fictional Glass family will take to the Plumbs: Four wealthy Manhattan-born-and-bred siblings whose inheritance (aka "The Nest") is threatened when one of them gets in a drunk driving accident and subsequently checks into rehab." — InStyle, 8 Buzzy New Books to Read During Spring Break
"A witty, tender portrait of a very peculiar family, The Nest is a testament to the consequences of our past choices and the ways in which expected inheritance can intimately change relationships." — Buzzfeed, 19 Incredible New Books You Need To Read This Spring
"It's funny and it's deep. And you'll hate-love them all." — The Skimm Reads
"Frequently funny, sometimes sad and highly relatable for anyone with a sibling or three, The Nest is a breeze to read and hugely entertaining." — PureWow
"Sweeney's family saga balances not only comedy and tragedy, but scandal and achievement, trust and betrayal, belonging and isolation and the complex nature of a family's love, both at its harshest and most tender." — Paste Magazine
"Few things are more compelling than looking into the interiors of other people's lives-and finding a truth or two about our own. In Cynthia D'Aprix Sweeney's wickedly funny novel THE NEST, four midlife siblings squabble over their inheritance; universal questions about love, trust, ambition, and rivalry roil." — More magazine
"D'Aprix gives each of the characters a distinct and true personality, and she has a flair for realistic and funny dialogue-readers will feel as though they're sitting right next to the clan as they bicker and barter. Fans of Jonathan Tropper will adore D'Aprix's debut." — Booklist (starred review)
"[A] smartly executed tale of two brothers and two sisters in New York City who are trying hard to ruin what could have been comfortable lives." — St. Louis Post-Dispatch
"[I]mmensely enjoyable...The Nest is like a love letter to old New York, with scores of lush details that root the story in time and place." — San Francisco Chronicle
"The Nest is all about families, how we let each other down, and more importantly, how we raise each other up." — Bustle, 12 Spring Break Reads To Help You Escape Normal Life
"Sweeney writes like a pro." — New York Times
"[A]promising start for this writer." — Seattle Times
"When the playboy older brother of a grown fam lands himself in rehab, he puts the group trust fund at risk. Cue his dysfunctional siblings scheming to get it all back. You'll hate-love them all." — The Skimm
"[A] wry, irresistible debut" — Entertainment Weekly, Best Books of 2016...So Far
"Cynthia D'Aprix Sweeney's characters...come to life on the page. Fans of dark humor will get a kick out of this family drama." — Real Simple, "Best Books of 2016"
Coverage from NPR