I Am Radar: A Novel (Paperback)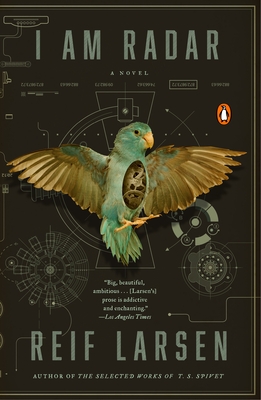 March '15 Indie Next List
---
"I Am Radar revolves around questions of art, creation, love, heartbreak, performance, war, and regeneration. Sounds like heady stuff, and it is, but on an immensely readable level that culminates in a puzzling yet delightful climax. As Radar navigates his way through life as a black child, a white man, and a white/black man, he discovers that art can be perception and science can be art. The language used is delightfully beautiful, even in the war scenes. I Am Radar may also be the best book about personal definitions of art in our time, as well as how art can affect and change a person. I cannot recommend it highly enough!"
— William Carl, The Booksellers at Laurelwood, Memphis, TN
Description
---
"Big, beautiful, ambitious . . . It takes narrative magic to pull off such a loopy combination, and luckily, Reif Larsen has it to spare. His prose is addictive and enchanting." —Los Angeles Times
 
The moment just before Radar Radmanovic is born, the hospital's electricity fails. The delivery takes place in total darkness. Lights back on, everyone present sees a healthy baby boy—with jet-black skin—born to the stunned white parents. No one understands the uncanny electrical event or the unexpected skin color. "A childbirth is an explosion," an ancient physician explains. "Some shrapnel is inevitable, isn't it?"
 
A kaleidoscopic novel both heartbreaking and dazzling, Reif Larsen's I Am Radar rapidly explodes outward from Radar's strange birth. In World War II Norway, a cadre of imprisoned schoolteachers founds a radical secret society that will hover on the margins of history for decades to come, performing acts of radical art and experimental science in the midst of conflict zones from embattled Bosnia to Khmer Rouge Cambodia and the contemporary Congo. All of these stories are linked by Radar—now a gifted radio operator living in the New Jersey Meadowlands—who struggles with love, a set of hapless parents, and a terrible medical affliction that he has only just begun to comprehend.
 
Drawing on the furthest reaches of quantum physics, forgotten history, and mind-bending art, Larsen's I Am Radar is a triumph of storytelling at its most primal, elegant, and epic: a breathtaking journey through humanity's darkest hours, yet one that arrives at a place of shocking wonder and redemption.

Praise for I Am Radar:
"A deeply patterned narrative that darts easily from small-bore domestic dramas to sweeping historical catastrophes with just the right fillip of silliness and levity to keep the whole text eminently ­approachable." —The New York Times Book Review
About the Author
---
Reif Larsen's first novel, The Selected Works of T. S. Spivet, was a New York Times bestseller and has been translated into twenty-seven languages. A Montana Honor book, The Selected Works of T. S. Spivet was a finalist for the IndieBound Award, was short-listed for the Guardian First Book Award and the James Tait Black Memorial Prize, and is currently being released as a film in France and the United States.
Praise For…
---
The Los Angeles Times: 
"[B]ig, beautiful, ambitious... Radical physicist puppeteers? It takes narrative magic to pull off such a loopy combination, and luckily, Reif Larsen has it to spare. His prose is addictive and enchanting... It's a worthy endeavor that Larsen, who could apply his gorgeous prose to more comfortable literary fictions, is engaging with distant and unfamiliar cultures... the book is striving for something stronger, and Larsen's ceaselessly lovely prose is matched by his many ambitions."

The Washington Post
"The promise shown in [Larsen's] first novel is more than fulfilled in the grandly ambitious I AM RADAR, another masterpiece of geekhood…If Larsen's debut looked like a Donald Barthelme assemblage, this one resembles something by Thomas Pynchon…Larsen's brainy book is no ephemeral performance piece. He grapples with time-honored questions of free will, predestination, man vs. nature and the tensions between parents and children. But it's the ingenuity with which he does so, rather than the themes themselves, that elicits admiration…I AM RADAR is a dazzling performance."
The New York Times Book Review: 
"Set aside for the moment the black baby born to white parents, the avant-garde puppeteers and the quantum physics that swirl around the whole kit and caboodle. The most interesting fact of Reif Larsen's 600-plus-page novel, I Am Radar, is that it reads lke something far more compact that its bulk might suggest. There are maps, diagrams and pictures (e.g., an elephant plummeting from a bridge, a Cambodian prisoner of the Khmer Rouge) that remind one of the visual arrangements in W.G. Sebald's novels. There there is a deeply patterened narrative that darts easily from small-bore domestic dramas to sweeping historical catastrophes with just the right fillip of silliness and levity to keep the whole text eminently approachable... I Am Radar is as easy to enjoy for its swaggering tragicomic spirit as it is to admire for its celestrial ambition."
 
Boston Globe: 
"Chameleonic, ambitious, epic, fantastical, whimsical, thought-provoking, arcane, philosophical, exhaustive, and completely bonkers... It's an estimable, and completely insane idea that has all the hallmarks of a film by Michel Gondry or Jean-Pierre Jeunet, who incidentally also directed the equally dazzling movie adaptation of T.S. Spivet... Larsen's fare is unquestionably one of the more adventurous entries into the literary landscape, and his skill and flair for quirky, innovative works that cross over into the historical and the literary will always have an admiring... audience. It's a performance, that's for sure, and Larsen is a keen player."

Cleveland Plain-Dealer
"Larsen's is an extraordinarily lush and verdant imagination, blooming wildly on the borders of the absurd and the riotous, the surreal and the ordinary…Quite unlike any [novel] I've read in a long time. One doesn't consume it; one enters it, as part of a literary enactment…Brilliant…The effort is well-rewarded: It is both maddening and marvelous…I can't wait to see what he pulls off next."
Shelf Awareness: 
"
A story of Homeric proportions
... It's 
a wild ride with an unconventional structure and enormous cast of unforgettable characters.
Larsen's prose is straightforward and bold, full of sparkling phrases... 
Wise yet unpretentious, both broad and deep, I Am Radar will slake the most unquenchable thirst for storytelling and open the reader's eyes to new possibilities in fiction
." 
The A.V. Club: 
"[S]prawling, epic... the result is impressive and a little bit wondrous. In a way, the reader becomes part of the story, becoming aware of the observer's affect on the observed... It's an astonishing conceit."

Flavorwire: 
"Large, robust, even intimidating: I Am Radar is never a laborious read. Sentence to sentence, the reader will find small gems ("How intimate, to trace a person's geography") and beautiful descriptions of typically ugly places... an intelligent and engaging book."

Time Out New York: 
"One of our most highly anticipated novels of the year, I Am Radar is an epic about Radar Radmanovic and his inexplicable link to past and present wars and sieges from the Congo to Yugoslavia…Genre-defying."

Vanity Fair: 
"[I Am Radar] moves beyond the limits of reality."

GOOP.com: 
"[An] ambitious and otherworldly tale."
Dallas Morning News: 
"In the spirit of Thomas Pynchon's V. and David Mitchell's Cloud Atlas, Reif Larsen's second novel, I Am Radar, is more akin to an intellectual curiosity shop than a traditional novel. It's an achievement of the imagination, peopled by characters who bear more resemblance to ideas than human beings, set on a global stage that spans both time and place from the 1940s to the present, via Norway, Cambodia, Bosnia and New Jersey."
Publishers Weekly (starred review): 
"Gripping… Masterly...This is a sprawling, engrossing novel about the ravages of war and the triumph of art. Larsen is an effortless magician, and his performance here is a pure delight."

Library Journal (starred review): 
"A delightfully disorienting and immersive experience."

Kirkus: 
"Strange things happen when Radar Radmanovic is around… If Larsen's story makes demands of its readers, it also offers plenty of rewards. Imaginative, original, nicely surreal."