On the Burning Edge: A Fateful Fire and the Men Who Fought It (Hardcover)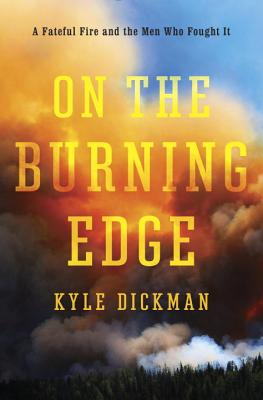 Description
---
NAMED ONE OF THE BEST BOOKS OF THE YEAR BY "MEN S JOURNAL "In the tradition of Sebastian Junger's "The Perfect Storm" and Robert Kurson's "Shadow Divers" comes a true and heartbreaking tale of courage, difficult decisions, and ultimate sacrifice. "On the Burning Edge, "by award-winning journalist and former wildland firefighter Kyle Dickman, is the definitive account of the Yarnell Hill Fire.
On June 28, 2013, a single bolt of lightning sparked an inferno that devoured more than eight thousand acres in northern Arizona. Twenty elite firefighters the Granite Mountain Hotshots walked together into the blaze, tools in their hands and emergency fire shelters on their hips. Only one of them walked out.
Dickman brings to the story a professional firefighter's understanding of how wildfires ignite, how they spread, and how they are fought. He understands hotshots and their culture: the pain and glory of a rough and vital job, the brotherly bonds born of dangerous work. Drawing on dozens of interviews with officials, families of the fallen, and the lone survivor, he describes in vivid detail what it's like to stand inside a raging fire and shows how the increased population and decreased water supply of the American West guarantee that many more young men will step into harm's way in the coming years.
Praise for "On the Burning Edge"
""
What makes this book a tear-jerking classic is the seamless manner in which Dickman weaves a century of fire-management history into the fully realized stories of the men's lives the sweat, the adrenaline, the orange glow of fire within their aluminum shelters, and the chewing gum that hotshot Scott Norris left in the shower before telling his girlfriend, Heather, I ll take care of it later. I promise. "Outside "
""
Dickman offers a riveting account of a dangerous occupation and acts of nature most violent and those who face both down. "Library Journal.
About the Author
---
Kyle Dickman is a former editor at "Outside "magazine and a former member of the firefighting crew known as the Tahoe Hotshots. He spent five seasons fighting wildfires in California. Dickman s reporting has been nominated for a National Magazine Award. He lives in Santa Fe, New Mexico, with his wife, Turin."