Cake: A Global History (Edible) (Hardcover)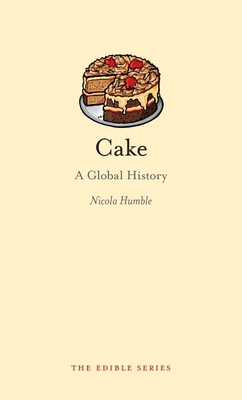 Description
---
Be it a birthday or a wedding—let them eat cake. Encased in icing, crowned with candles, emblazoned with congratulatory words—cake is the ultimate food of celebration in many cultures around the world. But how did cake come to be the essential food marker of a significant occasion? In Cake: A Global History, Nicola Humble explores the meanings, legends, rituals, and symbolism attached to cake through the ages.
            Humble describes the many national differences in cake-making techniques, customs, and regional histories—from the French gâteau Paris-Brest, named for a cycle race and designed to imitate the form of a bicycle wheel, to the American Lady Baltimore cake, likely named for a fictional cake in a 1906 novel by Owen Wister. She also details the role of cake in literature, art, and film—including Miss Havisham's imperishable wedding cake in Great Expectations and Marcel Proust's madeleine of memory—as well as the art and architecture of cake making itself.
Featuring a large selection of mouthwatering images, as well as many examples and recipes for some particularly unusual cakes, Cake will provide many sweet reasons for celebration.
About the Author
---
Nicola Humble is professor of English literature at Roehampton University.  She is the author of Culinary Pleasures: Cook Books and the Transformation of British Food, as well as Victorian Heroines: Representations of Femininity in Nineteenth-Century Literature and Art.
Praise For…
---
"Each book in the Edible Series describes a food or drink—its history, how it has evolved and how it has figured in various cultures across civilization. . . . Printed on heavy, rich stock with drawings and color photos, they are an appetizing bunch."
— Susan Salter Reynolds
"I had been awaiting Nicola Humble's Cake: A Global History with as much anticipation as a warm Dundee cake coming out of the oven on a winter's afternoon. A mere 150 pages in length and the colour of creamed butter and sugar, this is the story of cake and its place in our history, its myths, legends and folklore . . . I have found it as difficult to put down as a slice of village-fête chocolate cake."
— Nigel Slater
"It was a really fun read. The book looks at the origins of cake and the way it has evolved over the years, the different cultural emphasis placed on cake over the years, the role of cake in literature (with one of the most obvious cakes to my mind being the decaying wedding cake that was so symbolic in Dicken's
Great Expectations
), and the changing face of cakes given the current popularity of cupcakes and modern structural cakes like those that you can see on shows like 'Ace of Cakes' and the 'Cake Boss!'"
— The Adventures of an Intrepid Reader blog